Alhambra Visits with Tickets Sale
Guided Tours with Tickets
By hiring one of our Guided tours of the Alhambra, on this website, YOU DO NOT NEED TO BUY TICKETS, well our visits INCLUDE: Tickets and official guided tour. From our page, you can book all kinds of visits.
---
Guided tour of the Alhambra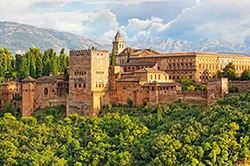 We leave every day of the year, you will discover this unique Muslim Medieval City, the best preserved in the world, the Alhambra, visiting its Palaces, the Mexuar, Comares, the Lions, the Generalife; walking through its courtyards, the arrayanes, the fence, the ditch, the Sultana; and enjoying its gardens, the Partal, the Medina and of course the Generalife with its funny water games, its labyrinthine design...
---
Alhambra Private Tour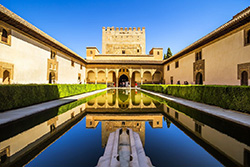 If you are looking for a Private Tour, where you do not want to share the visit of the Alhambra and the Generalife with people you do not know, you are interested in hiring this modality. The maximum number of people allowed for a group is 30, if this number is exceeded, another visit should be contracted with a second guide.
---
Visit of the Alhambra for schools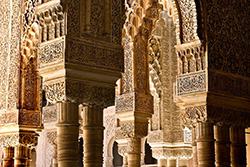 With this type of visit your students will know in a pleasant way the history and legends that occurred inside and outside that great fortified city of the thirteenth, fourteenth and fifteenth centuries that was the Alhambra (La Roja), and enjoy a pleasant walk through the Generalife gardens, to end the visit at the Summer Palace.
---
See all guided tours of the Alhambra
About the visit to the Nasrid Palaces:
Unlike the rest of the monument, you can only access the Nasrid Palaces within the average now indicated at the entrance, since the capacity is restricted to 300 people every half hour. If you do not visit them within that half hour you will lose the right to visit, although it can remain in the rest of the Monument.
Note that the last tour to the Nasrid Palaces ends one hour before closing time, and hard 30 minutes minimum, so you must visit the Generalife and the Alcazaba before.
---